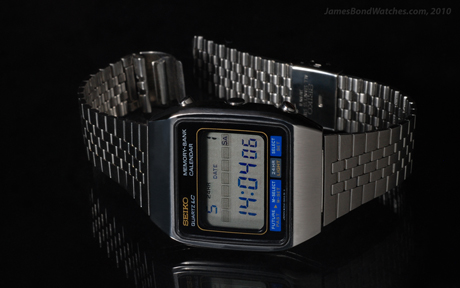 Seiko case number M354-5019, model SFX003 quartz digital watch. James Bond watch choice for actor Roger Moore as Agent 007 in Moonraker, Eon Productions, 1979.
Notes
"Seiko Quartz LC Memory-Bank Calendar" liquid-crystal diode wristwatch. Worn on at least two bracelet variations, neither of which was original to this watch. Reference per definitive list of James Bond watches as:
"Corinne Dufour Seiko"
"Explosives-Compartment Seiko" (gadget version)
The SFX003, M354-5019 Memory-Bank Calendar wristwatch is no longer listed as a current model on the Seiko Watch Corporation website.
Photo
Exclusive image created for JamesBondWatches.com by Dell Deaton.
© 2010 Dell Deaton. All Rights Reserved. Published USA.
Press / Media
See "Media Inquiries" tab above for other use permissions, higher-resolution images, and/or images without watermarks. Subject to additional terms of use.
---