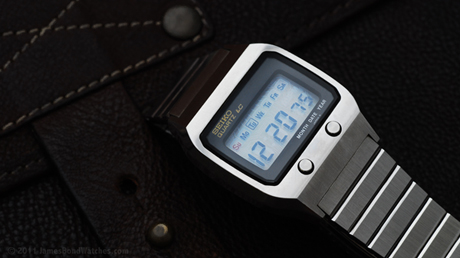 Seiko case number 0674-5009, model DK001 LCD quartz digital watch. James Bond watch choice for actor Roger Moore as Agent 007 in The Spy Who Loved Me, Eon Productions, 1977.
Notes
"Seiko Quartz LC" liquid-crystal diode wristwatch. Reference per definitive list of James Bond watches as:
"Ticker-Tape Seiko" (gadget version)
"Atlantis Seiko"
The Seiko DK001, 0674-5009 Quartz LC wristwatch is no longer listed as a current model on the Seiko Watch Corporation website.
Photo
Exclusive image created for JamesBondWatches.com by Dell Deaton.
© 2011 Dell Deaton. All Rights Reserved. Published USA.
Press / Media
See "Media Inquiries" tab above for other use permissions, higher-resolution images, and/or images without watermarks. Subject to additional terms of use.