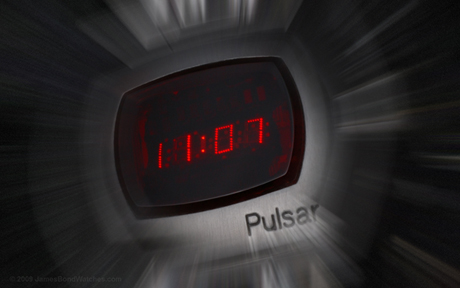 Hamilton Pulsar LED quartz digital watch. James Bond watch choice for actor Roger Moore as Agent 007 in Live and Let Die, Eon Productions, 1973.
Notes
"Astronaut" light-emitting diode wristwatch. Reference per definitive list of James Bond watches as:
The Hamilton Pulsar P2 wristwatch is no longer listed as a current model on the Hamilton website.
Photo
Exclusive image created for JamesBondWatches.com by Dell Deaton.
© 2009 Dell Deaton. All Rights Reserved. Published USA.
Press / Media
See "Media Inquiries" tab above for other permissions, higher resolution images, and/or images without watermarks. Subject to additional terms of use.