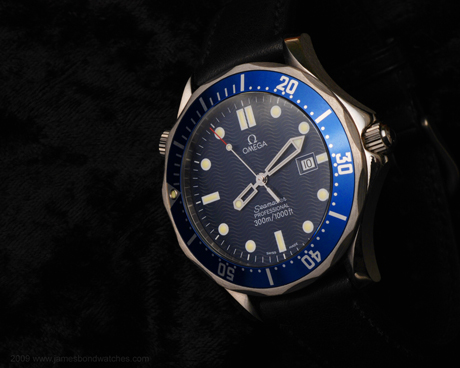 Omega reference 2541.80 Seamaster quartz analog watch. James Bond watch choice for actor Pierce Brosnan as Agent 007 in GoldenEye, Eon Productions, 1995.
Notes
Reference 2541.80.00, 25418000 (alternative variations on above). Although this model was worn on a strap during the Arkangel Chemical Weapons Facility pre-title sequence, the configuration pictured here is not completely screen-accurate. Reference per definitive list of James Bond watches as:
The Omega 2541.80 Seamaster wristwatch is no longer listed as a current model on the Omega website.
Photo
Exclusive image created for JamesBondWatches.com by Dell Deaton.
© 2009 Dell Deaton. All Rights Reserved. Published USA.
Press / Media
See "Media Inquiries" tab above for other use permissions, higher-resolution images, and/or images without watermarks. Subject to additional terms of use.
---